How to Grow your Podcast
You've already dedicated extensive hours to researching and recording your podcast episodes. Now, how do you get listeners? We will be covering everything you need to know in this article!
Main topics:
How to build a community on social media
Where to start with SEO for your podcast
How to begin a newsletter
Tips to keep in mind while you are recording
Build a community on social media
Post daily
People need to trust you and feel connected with you to spend their time listening to what you have to say. Utilize social media to give yourself credibility and make it easy to get to know you. Post your daily life and the ways you practice what you preach. For example, if your podcast is on health and wellness: you'll want to put your certifications in your bio and to upload daily snaps of your workouts, walks, recovery days, meals, etc.
Engage
It is important to respond to your audience as often as you can. Reply to comments, follow up on DM's, and like re-shares. Additionally, ask your audience questions and post polls. This will transform your social media from a one-sided platform to a community.
Create a Facebook group
Another aspect of building a strong community is enabling your audience to connect with eachother. Consider creating a Facebook group for your podcast where everyone can interact together and discuss your niche's topics.
Have a call-to-action
Several popular podcasts pose challenges at the end of their episodes- something to put into action what you have just learned. This is a great way to increase the value you provide for listeners, because it encourages positive habits and change. Call-to-actions or 'weekly challenges' will turn your podcast into a lifestyle.
Run a paid ad for initial momentum
When you are looking to gain an initial following, you may want to run a paid ad on your main social platforms. Reddit, Twitter, and Instagram are great places to start. We definitely recommend displaying your podcast in a 3-D mockup of an iPhone. This transforms a simple screenshot into a call to action, like hitting play on Spotify.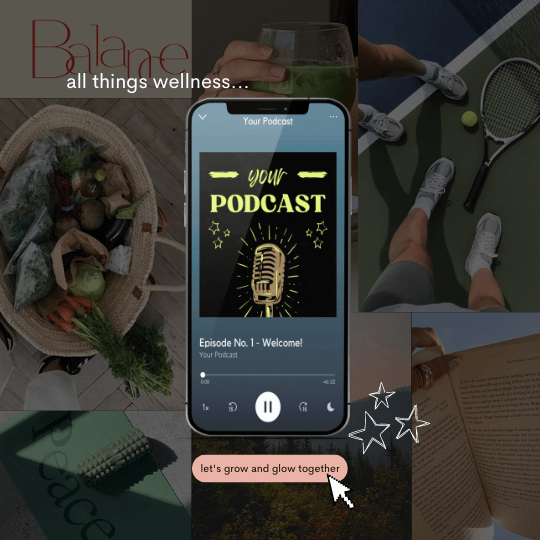 Master SEO for your podcast
The title matters
You want your target audience to be able to find you easily. People often search for wellness podcasts, marketing podcasts, true crime podcasts, etc., rather than specific podcast names. Include a keyword like this in your title that tells people what kinds of topics you discuss and helps make your podcast searchable.
Create a podcast trailer
This allows you to associate your podcast with more keywords in your niche. In equal importance, an upbeat and enticing podcast trailer also acts as a hook for listeners.
Tips for creating a high-conversion podcast trailer:
Keep it under a minute
Introduce yourself briefly and the topics you will discuss
State the main goal of your podcast, what value are you going to provide for your listeners? Tell them point blank why they should listen.
Include clips of the most interesting parts from your already recorded episodes
Make it catchy. The Joe Rogan experience is the most listened-to podcast on Spotfiy. His podcast trailer/intro is catchy and as a result, hypes listeners up for what they are about to hear.
Write guest articles and seek guest appearances
Writing guest blog posts will help improve your SEO, and it will help establish your name in your niche. To find other people in your niche, search '*relevant keyword* books' on Amazon. These authors may be interested in publishing your work on their blogs. This is also a great way to find authoritative guests to interview.
Use YouTube: the 2nd biggest search engine
You are definitely going to want to have a channel to post your episodes on. In addition to the full recording, you can split your podcast episodes into smaller clips to upload. This helps you target more keywords- make sure you include them in the title and description of each video.
Convert your podcast transcripts into blogs with rev.com
Having a website/blog for your podcast is a huge help for SEO, but it can be time-consuming to write enough long-form content. One hack is to convert your podcasts into transcripts. Your long-form article can already be a rough draft before you even start typing. The long-from article can be recycled into several smaller articles, twitter threads, etc. This is an excellent way to work smarter, not harder.
Send a weekly newsletter
A newsletter is an excellent supplement to your podcast. Newsletters increase interactions with your listeners, and can grow into an additional revenue stream.
Tips to start your newsletter:
Stay consistent. Try to send out one email/week- this is the sweet spot for frequency
Write as though you are writing to a close friend
Include exclusive content. People love feeling like they are a part of something
Be concise. You aren't trying to hit a word count, you are trying to provide value
3 Things to keep in mind as you record
1. Be authentic. Share what you know best and what you are passionate about. Your expertise and enthusiasm will shine, or your lack thereof.
2. Continue to try different formats. You never want to become stagnant. Audiences prefer a variety of formats: Q&A, discussion, interview, storytime, etc.
TREND ALERT: Guided podcasts are gaining momentum, especially in the wellness space. These are a hybrid of listing to music and listening to a podcast, which is perfect for people who are indecisive. As a creator, you pick a topic to discuss and pair it with intermissions of relevant music. Examples: Share journaling prompts with introspective, calming music at intervals; teach coding tips with focus music at intervals; share a pasta recipe and the story behind it with Italian music at intervals. This style can transform your podcast from a listening experience to an immersive activity. It has the potential to drive great levels of engagement. If you are looking to grow your podcast, this trend should be on your radar.
3. Always start with a plan. An outline of your episode before you start recording will help keep you on track. People often become repetitive or use filler words if they aren't sure what point to hit or topic to move to next. Good podcast episodes don't happen magically, you must plan. When podcasters don't have a plan before they start recording, it shows, and not usually in a good way.
Conclusion
It can feel daunting to try to grow your podcast. If you are overwhelmed by all there is to do, remember, the hardest part is already behind you: you got started. All that is left to do is work hard and stay authentic. We believe in you!
Explore Other Recent Articles