Crafting Your Path to Success: A Guide to Starting Your Own Etsy Shop
It's no surprise that the past decade has seen a major shift in the way people shop. With the rise of online marketplaces like Etsy, it's now easier than ever for small businesses to showcase and sell their handmade, vintage, and unique creations to a global audience. Currently boasting an active community of over 2.5 million sellers, Etsy has become a leader in this digital shopping revolution.
However, when it comes to actually starting your own Etsy shop, the process can be overwhelming. Many aspiring entrepreneurs don't know where to start or how to ensure that their shop will be a success. That's why we've put together this professional guide to help you craft your path to success. In this post, we'll cover everything from laying the groundwork to marketing and maintaining your shop. By the end, you'll have the tools and knowledge needed to launch a successful Etsy shop and turn your passion into profits.
Step 1: Understand the Costs of Selling on Etsy
Opening an Etsy Storefront: free
Listing Fees: $0.20/product
Transaction Fees: 6.5% of the final price (including shipping, customizations, and gift wrapping)
Currency Conversion Fee: 2.5% applicable if the listing price is different than the payment account currency
Payment Processing Fee: vary based on the location of your bank account, but for most US sellers they are usually $0.25 + 3% of the final price (including shipping, customizations, and gift wrapping)
Etsy Plus: optional $10 a month for these benefits

Extra customizations for your shop front (banner types, featured listing layout)
Restock requests for sold-out items
15 listing credits per month ($3 value)
$5 Etsy ads credit per month
Free .store domains or 50% off domain for .com, .net
Discount packages and promotional materials like business cards and custom shipping boxes

Cost of materials for your products
Marketing materials and tools to help you get up and running
In total, Etsy fees make up about 20% of the total costs for most sellers. Generally, the higher priced an item is, the lower percentage Etsy takes.
Step 2: Brainstorm Ideas for Your Shop
Take the time to consider your interests, skills, and what type of products you would like to create and sell. Think about what will set your shop apart from other Etsy sellers and how you can make it unique.
Research Etsy to get a feel for what products are already selling well.
Digital products, ebooks, wall decor, prints, stickers, t-shirts, and mugs are all best-selling categories.
Step 3: Create an Etsy Seller's Account
Go to etsy.com, sign in, or create an account. Click on your profile on the top right and then 'Sell on Etsy'. Click Get started, you will then see several pages that give your more information on how to sell on Etsy.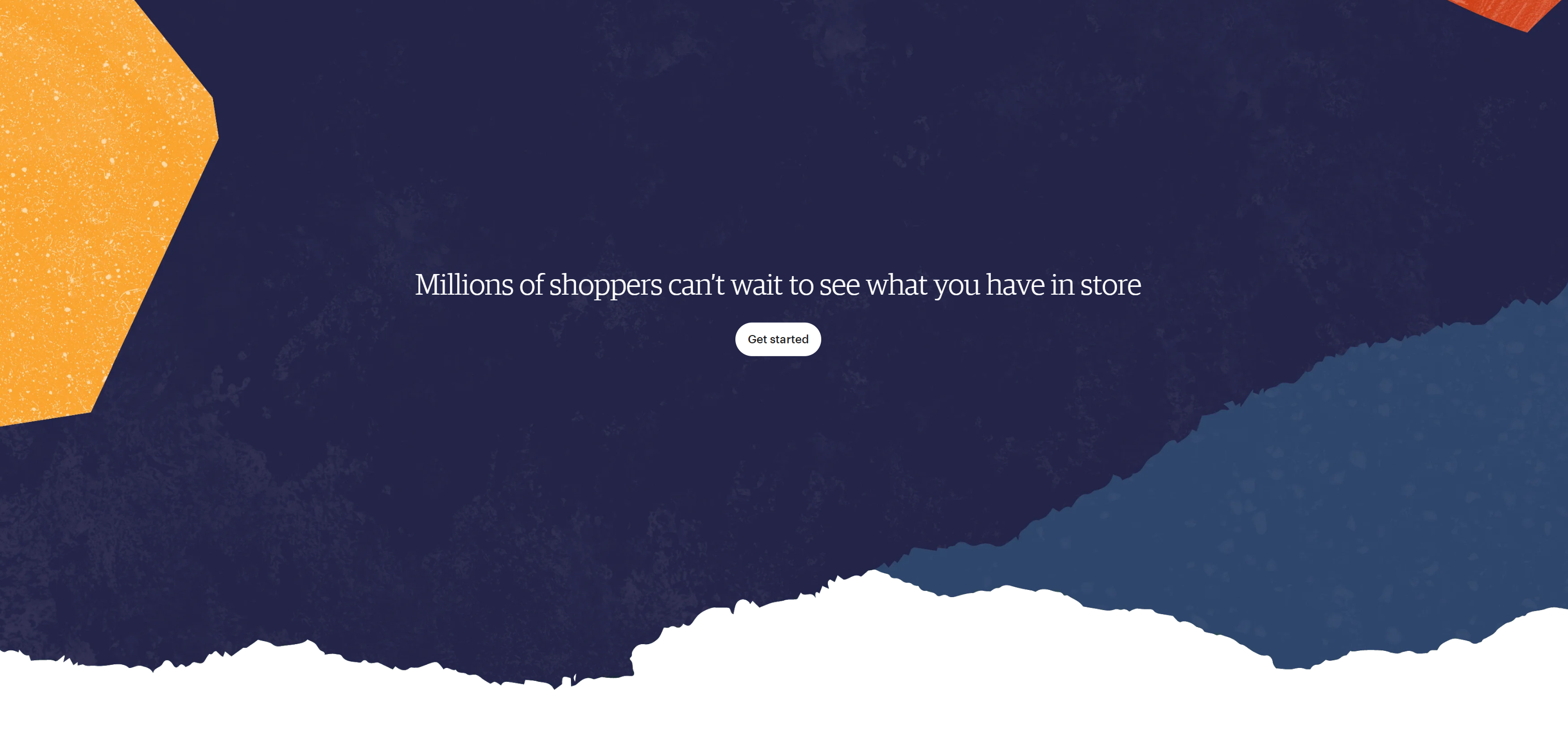 Step 4: Set up your Storefront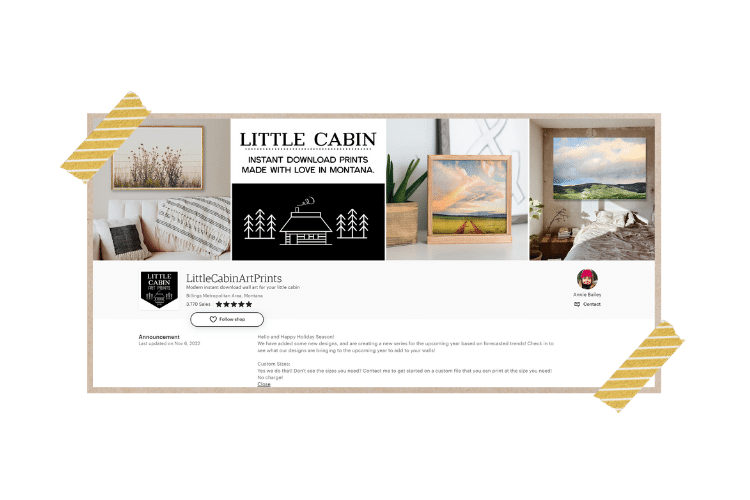 Set up your preference like your shop country, language, and currency
Name your shop something relevant, memorable, and easy to spell. You can change your shop name up to 5 times before you have to contact Etsy support. Don't overthink this step too much.
Brand your shop by uploading a shop icon and banner.
Step 5: Add Listings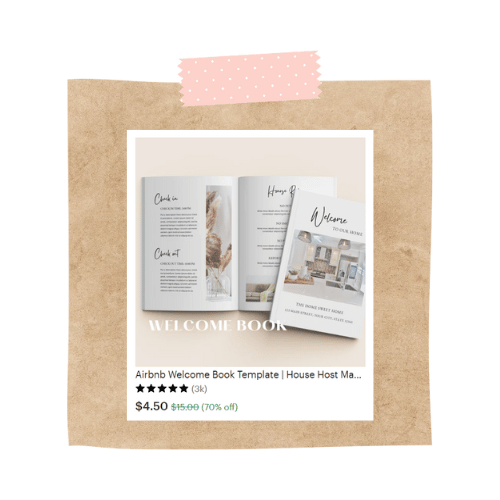 Images: High-quality, cohesive, and eye-catching photos are key to making your store look professional. Creating a mockup for the cover photo is one way to guarantee consistent lighting, backgrounds, and quality. You will also want to create mockups for your digital products. BoxShotKing is an easy way to do this- no Photoshop license or skills are required.
Title: Make sure that your title is compelling. Optimize keywords so your listing shows up on relevant searches. Try to think like your customers and brainstorm what they would be searching for in order to find a product like yours.
Category: Being accurate with your category is crucial for optimizing Etsy search.
Description: Etsy looks at your product description to further determine the ranking of your listing in Etsy search. Write a short paragraph that includes keywords and describes the benefits and features of the product.
Price: A rule of thumb for pricing your items is to take the wholesale price for your item, which factors in your costs and labor, and multiply it by 2.
Shipping: If you can, offer free shipping at least on orders above $35. These listings appear higher in search results and entice customers. When have any of us ever been excited to pay for shipping?
Choose the simple policy or set a custom policy: For personalized items, you might not want to accept returns. Be sure to adjust this in your listing policy. For most scenarios, the simple policy is great and fair for everyone.
Step 6: Market Your Shop
Now that your shop is ready to go, it's time to start marketing it. Here are some strategies you can use to get the word out:
Creating a Cohesive Brand Identity: Creating a cohesive brand identity is key to marketing your Etsy shop. Think about the message you want to convey to your customers, and then use this to create a consistent look and feel across social media and other platforms.
Marketing on Social Media: Social media is a great way to market your Etsy shop. You can use platforms like Instagram, Facebook, and Twitter to spread the word about your shop and build relationships with customers.
Networking with Other Etsy Sellers: Networking with other Etsy sellers is a great way to get your shop seen by potential customers. Share each other's products, collaborate on projects, and get involved in online groups and Facebook pages.
Advertising Your Shop: Paid advertising can also be a great way to promote your shop. You can use platforms like Google Ads or Facebook Ads to reach a larger audience and drive more traffic to your shop.
Step 7: Maintain Your Shop
Now that you've started to get the word out, it's time to focus on maintaining your shop. Here are some tips to keep in mind:
Customer Service Tips: Aim to respond to questions and inquiries within 24 hours, and be sure to thank customers for their orders.
Staying Organized: Staying organized is essential for a successful Etsy shop. Set up systems for tracking orders, managing inventory, and tracking customer data. This will help you stay on top of your shop.
Measuring Success and Making Adjustments: Track key metrics like sales, customer acquisition, and customer feedback. Then use this data to assess what's working and make adjustments as needed.
Conclusion
Starting your own Etsy shop can be a daunting task, but with the right guidance and direction, you can craft your path to success. In this blog post, we've outlined the steps needed to set up a successful Etsy shop, from laying the groundwork to marketing and maintaining your shop. We hope this professional guide has given you the tools and knowledge needed to successfully launch your own Etsy shop and turn your passion into profits. Good luck on your journey!
Explore Other Recent Articles